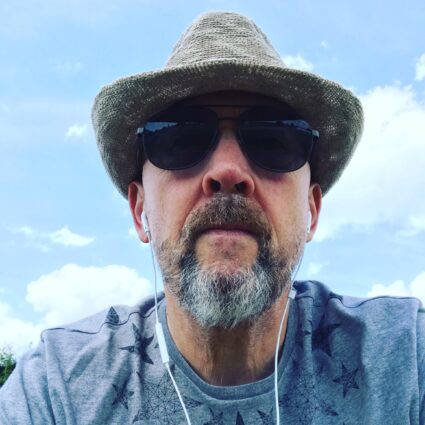 I was born (January 1961) and raised in Wolverhampton. My earliest musical memories are sketchy, but I seem to recall, from quite a young age, hearing Motown records on the radio. I reckon my earliest memories would be from 1966 onwards – I can certainly remember the "World Cup Willie" song!
No doubt I'd have heard lots of Beatles' music. Similarly, I'd probably have heard music from the Stax label + the popular music of my formative years. I'd have been totally dependant on radio, but I do recall seeing "Top Of the Pops" and "Ready, Steady, Go!".
At this point I would not have been leaning towards any particular genre or artist. What I do recall was being fascinated by the Apollo Space Missions. I also recall my first visit to Molineux – the home of Wolverhampton Wanderers – in 1968 I believe. I was petrified!
It would have been 1974 before I started to develop my musical "identity". Someone loaned me a copy of "Kool & The Gang's Greatest Hits". I'd never heard of them, nor of any of the tracks on said album, however, something struck a chord (no pun intended). I was reliably informed that what I was listening to was a genre called FUNK and Id become well and truly hooked.
I started to buy Blues & Soul magazine and Black Echoes music newspaper. I started to seek out specialist music stores…..difficult in a Northern Soul and Metal/Prog oriented world.
I discovered other genres – Soul; Jazz-Funk; Reggae and, Disco – but I was still fully aware all other genres of music. I was always a big fan of local band Slade and I liked Queen; Roxy Music; David Bowie……then along came Punk and then New Wave…..and then electronic music…..New Romantic…..
By the early 1980s I had taken massively to the likes of Depeche Mode; Simple Minds; Spandau Ballet (only really their earlier stuff); OMD; Ultravox; Human League etc. In turn, this led me to "discover" the music of Kraftwerk.
As the 80s progressed, my love of Soul music waned somewhat, ironically because the use of technology that appealed to me in other genres had made Soul music somewhat stark, industrial and soulless.
Chicago House Music (1986 onwards) kept my interest in danceable music very much alive.
Since then, I've collected music across many genres. Funk and the music of/music influenced by Black America is still my main source of enjoyment, but my enjoyment of most genres of music has continued and blossomed.
I freed my mind, and my ass duly followed…..Funkadelic would be proud of me!
I've been a DJ (on and, at times, very off) since 1978-ish and first started to broadcast in 2014 I think it was. I present a weekly show on Jazz Funk Soul Radio (jfsr.co.uk) wherein I play lesser-known Funk/Soul/Disco/Jazz-Funk/House/Nu-Jazz/Broken Beats and I'm now endeavouring to provide a monthly show for The Crew Rock Radio, wherein I'll present "The Alternative Take"…..a show that bears testimony to my varied musical background and tastes.