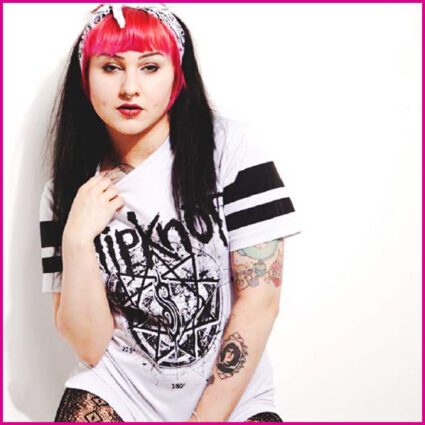 Harley Rose is the radio DJ hosting the Women In Rock Show.
Originally being born in Coventry in the 90's and being brought up on Ska and Reggae as a youngster she broadened her horizons to the likes of Pat Benetar and Stevie Nicks, then onto more recent bands such as Paramore and Bring Me The Horizon, followed by a rather embarrassing teenage goth phase that her and her hairdresser would rather forget!
Her parents had a big influence on her music taste so she has a wide musical knowledge from times before she was born to today, which is ever expanding.
Some of her favourite bands growing up were Avenged Sevenfold, Misfits, The Cure and Placebo. Some memorable concerts she has attended we're Linkin Park playing Hybrid Theory in full at Download Festival in 2014, Placebos 20th anniversary tour in Birmingham 2017 and Foo Fighters at Milton Keynes Bowl in 2015.
Her current favourite artists are Amaranthe, Marmozets, Ghost and Pantera.
Top ten albums are:
Ghost – Meliora
Amaranthe – Maximalism
Johnny Cash – At Folsom Prison
Pantera – Far Beyond Driven
Gerry Cinnamon – Erratic Cinematic
Fleetwood Mac – Rumours
Placebo – Sleeping With Ghosts
Wednesday 13 – Fang Bang
Misfits – Famous Monsters
Avenged Sevenfold – Avenged Sevenfold