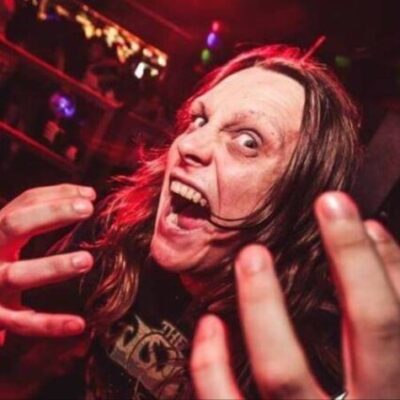 Rich Harris has been DJing rock/metal clubnights since 2003, and has played all over the place from The Phoenix and The Crew in Coventry and Nuneaton, to Black Deer Festival and Bloodstock Festival's Serpents Lair.
He was one of three presenters for the now defunct Desertscene Podcast, playing the best in stoner rock/doom and interviewing bands/artists to promote albums and tours. He still DJs the Desertfest festival every year, and the booze-soaked afterparties are the stuff of legend.
Rich has also been involved in promoting, having booked acts such as The Obsessed, Nick Oliveri, Saint Vitus, Conan, The Atomic Bitchwax and many more.
Always enthusiastic about the rock world, Rich is an avid listener of all genres, but his heart lies with grunge, fuzz, thrash, and anything slow and low.
Top Ten albums of all time (always changing!):
1. Soundgarden – Superunknown
2. Faith No More – King For a Day… Fool For a Lifetime
3. Queens of the Stone Age – Rated R
4. Corrosion of Conformity – Deliverance
5. Queen – News of the World
6. Metallica – Ride The Lightning
7. Clutch – Blast Tyrant
8. Alice in Chains – Jar of Flies
9. Saint Vitus – Born Too Late
10. Life of Agony- River Runs Red