Hearts & Hand Grenades – Turning to Ashes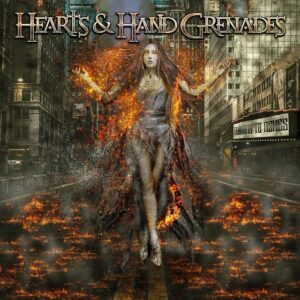 Formed in 2012 as a covers band, Hearts and Hand Grenades is one of those groups that has taken a while to be noticed, but was worth the wait. They spent ten years building a reputation as one of upstate New York's top live bands. Whilst supporting Goo Goo Dolls in March 2019, the band was approached by the Dolls vocalist / bassist Robby Takac, who invited them to record at his very own GCR studios.
By July 2019 they had enough original songs to create an EP called "Wait", which was released independently and they continued to write new songs throughout the year, mixing them in with their act when they performed live. Eventually they had enough for an album, and this is what brings us up to date.
On January 8th, Turning to Ashes will be released, and in my opinion this is a powerful first album.
This is what I call modern hard and heavy rock music. It is led by the absolutely fabulous voice of Stephanie Wlosinski, who also plays a great bass line too. The rest of the band consists of Mike Bress playing guitar and keyboard, Kenny Blesy on lead guitar and Tom Lafferty on drums.
There are 9 songs on the album, two of which are different edits of the same song, Nothing Left. The album starts with a fairly heavy title song "Turn to Ashes", then moves on to an even heavier song – "For The Weakened". The pace and vocals then changes slightly in "Daggers", so by the time you get to "I Hide", which goes slow and heavy, you are almost ready for what is to come next.
"Adrenaline" has a hard and heavy beat, great guitar tones and some really nice vocals. It never feels like it is a 5 and a half minutes song and keeps you rocking all the way through to the end. The next song, "Nothing Left", is the one that comes in two edits. One is the clean radio edit; the other is the explicit one. To be honest I was too involved in the song to notice the real differences. I shall probably be playing both on my show, so maybe the listeners can tell me which they prefer. This song is noticeable for the heavier bass line that is showcased throughout the song.
Then we come to "The In Crowd". It has a completely different funky intro that mimics a modern jazz style and then jumps back and forth between this and manic rock – I loved it! It's just so well done and is a complete change of pace that shows just how adaptable this band can be. The last song to mention is "My Sickness" and is a great heavy rock song with some nice metal overtones.
If the best heavy rock bands of the 80's and 90's had a baby, it would be this band. You can tell they have put their heart and soul into this album. Solid instrumentation, great vocals and a very clean and uncompressed mix make this a great listen.
As a rock album it is great, but as a first rock album it is fantastic.
10/10 – buy it!
Contact Louis via:
Email: spotlight@crewrock.radio    Twitter:  @TurfreyLouis    Instagram: @el_turf_stuff