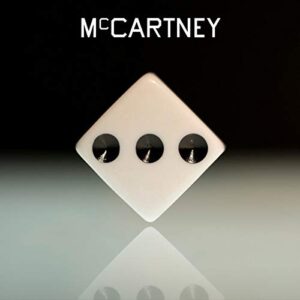 Once upon a time, Paul McCartney was a member of a band called the Beatles. Apparently they were quite famous. However, since then he has been in Wings and has now also done many a solo album. This is his latest adventure, McCartney III and to say it is something interesting would be an understatement.
The album starts off with a purely instrumental piece that reminds me of many a night jamming with a folk rock group I used to know in my old band days. I say instrumental, but there are some lyrics – just not a lot of them. I won't go as far as saying that it has a country rock feel, but somehow it does. Next is "Find My Way", which has a typical McCartney sound, but at the same time reminiscent of later Wings.
The third song on the album is "Pretty Boys" which starts of calmer, acoustic and moves into a very chilled song with a repetitive guitar and bass refrain. Like pretty much all the songs on this album it's McCartney singing on his own and it's nice to hear that his vocals are still there.
I will diverge a bit here and add that this whole album feels slightly experimental, which is something that has always run through the McCartney titled albums. It's great to hear that after over 60 years writing music that McCartney can still come up with interesting songs and sometimes completely off the wall subjects. On one album there is acoustic, electric, jazz, country and folk – sometimes mixed in with a southern rock feel and sometimes all in one song. It is a tour-de force of musical styles.
Take track 4, "Women and Wives", which starts with his familiar piano style but never requires anything else but that and his voice. Two instruments, one mechanical and one biological come together into a song that just works. This is then followed by the bluesy guitar tones of "Lavatory Lil", It shouldn't work with a title like that but it does and it's really good, Track 6, "Deep Deep Feeling" is in my opinion the best song on the album and the longest. It just starts off from a single drum and builds and builds into a Jazz / Rock fusion. Layers and layers of incremental sounds and vocals. To borrow a phrase, it's lush and experimental and ends in acoustic guitar and vocals.
This is where we need to mention the production on this album, It's good, very good. Not only that, it works because it is McCartney who has done it all. The music, the instruments, the layers of both instruments and vocals. It's all McCartney. He's not done an album like this since McCartney II in 1980, and I am including in that the Russian album, which I have but was only officially on sale in Russia,
Moving to track 7, "Slidin'", we come to something a little heavier, with a blues rock, southern rock sound that reminds me again of Wings. This is followed again by a quieter song, "The Kiss of Venus", which once more has a classic McCartney folk sound to it. Again with layered vocals in parts. It just as easily have been Bowie sitting there playing and singing. It took me back to a time when songs were simpler and more interesting to listen to.
The next track on the album, "Seize the Day" reminds me of a mix of the White Album and Abbey Road. There's a strong vocal, piano and guitar style that reminds me of this period, but brought up to date, This is followed by "Deep Down", which is the second longest song on the album and had me irritated at first, It seemed too long and a little bland, but on listening to it for a second time I could hear all the different instrumental queues, with a mix of tones that reminded me of some of the classic slow Motown songs. You can lose yourself in this song quite easily. There's also some good vocal riffing towards the end of the song.
the last song on the album, "Winter Bird / When Winter Comes" mixing in some of the refrain from the first song then goes into a more youthful voice. It's still McCartney, but it was recorded in the 1990's and was produced by George Martin. It is a fitting end to a great album and reminds us where McCartney came from. It's softer, light hearted and just a chilled song.
This album is considerably less experimental than McCartney II, but that was released 40 years ago and McCartney has changed, However, there's more maturity in the lyrics and many of them reflect the emotional experiences of McCartney himself over the last 40 years. I've been lucky to be a fan since I was a child, (I was born in the late 1960s), and I am happy to say that with this latest release I am still a fan. So, taking that as a caveat, I am going to score this a stonking 9/10.
Review by Louis Turfrey "El Turf"