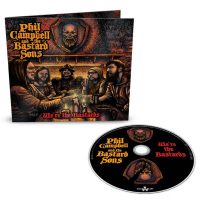 Phil Campbell and the Bastard Sons – We're The Bastards
Imagine, if you will, that someone crossed Motorhead with The Who and Guns n' Roses and you have the group Phil Campbell and the Bastard Sons. At least that's how I hear it. This is heavy rock with an occasional blues edge and some seriously good songs.
Enter the new album, called "We're the Bastards". This is the second album from the band and leaps into the fray from the first song, the title song of the album. The second song, "Son of a Gun" keeps the momentum going, featuring lyrics which reference songs from Motorhead. Not surprising when the guitarist and co-creator of the band is Phil Campbell, previously of Motorhead fame. He left Motorhead after the death of Lemmy in 2015 and together with Neil Starr. (formerly of Attack Attack!), Todd Campbell, Tyla Campbell and Dane Campbell formed Phil Campbell and the Bastard Sons in 2016. They released an EP in 2016 named after the band and their first album, "The Age Of Absurdity" was released in 2017.
Progress through the album and you see a change of pace which borders on a blues style. Track 4, Born to Roam, kicks off with a southern rock blues intro on acoustic guitar and continues into Southern style rock with a blues back beat and rhythm. Jump on to song 5, "Animals", and you can hear the guitar rhythms that were so prevalent in Motorhead for so many years. Its fast rhythm, heavy drums and a near Metal style are interspersed by a change of pace in the chorus. Is this heavy metal? I'll let you decide.
The song "Bite My Tongue" has a hard rock edge with a clever lick and one of the best mixes on the album. Again, this reminds me of hard American rock. Next we jump to "Desert Song" which has a southern blues rock feel to it with a nice mix of harmonica. This is one of those songs that you just want to sing the tag line to. There's some very good guitar work on this one with subtle changes in volume and instrument backing that work well.
"Keep Your Jacket On" continues the trend and sounds amazing, continuing the mix of tuneful high impact rock music and great guitar and tight bass backing over a hard drum core. From there we move to "Lie to Me", which has a slightly different style of intro, and softens the edge only slightly. Very "Black Sabbath" in its sound at times with some great vocals.
Song number 10, "Riding Straight to Hell", starts with a disjointed riff that I just cannot seem to get my head around. It's not a bad song, but compared to the rest of the songs on the album it feels more like filler, which should show you just how good the rest of the songs on this album are. It does have a decent sounding guitar solo but it feels disjointed at first.
"Hate Machine" is fast heavy rock, and gets you back into fast head banging mode. This is groove metal in style. Imagine Testament or Pantera playing this and you'll get the idea.
Finally we have "Destroyed" the 12th song on the album. This is one of those songs that would definitely not be found on a normal radio station. Swear words, a fast drum beat, almost thrash guitar and a pure punk style makes for an impact-full if short ending to this album.
In conclusion, this is one of those albums you should take out and play on a regular basis. It's not perfect, but is a solid 7.5/10. Maybe even an 8/10 after a few re-runs. It offers up varied styles and brings back memories of bands gone by without copying them. It's great to know that albums like this are still being made.
The album is available now on the Nuclear Blast label.