Ace of Spades – 40th Anniversary Remaster
Ace of Spades was the first album by Motorhead to be released in the USA. It was their fifth album and was originally released in 1980 and is counted as one of the best metal albums of all time.
This year is the 40th anniversary of the original album release and so the band has decided to remix it and release it again as part of a celebratory box set / special edition set. I am glad they've done this, because my original tape of the album is worn out and my vinyl is scratched to sh%t!
There have been five different versions of the new release. The most simple, and cheapest, is the digital version. Next there is a 2 CD edition, a 3 album edition and two additional box sets. The box sets come in two forms. First is the Deluxe Edition which has 5 albums, a DVD, a 40 page book about the band, a tour program, a Rock Commando comic, and a set of five poker dice and the 7 inch single of "Ace of Spades". This is all encased in a classic wooden Wild West style dynamite box. Yup, dynamite box, (explosives not included). Okay, so it's made to look like a dynamite box – it's not real.
The Super Deluxe edition, and also the most expensive version, comes with an additional set of Motorhead playing cards, a set of two Motorhead shot glasses, some poker chips and a poker mat. All that's missing is some whisky. Yeah, we wish. Now, I've seen several people quote the Deluxe edition as the Super Deluxe edition, so…check before you buy.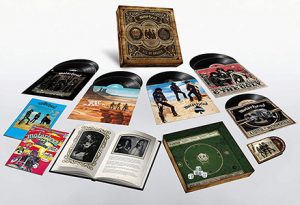 The version I am looking at today is the 5 album deluxe variant, in digital format and without all the goodies.
First off the block is the re-mastered 2020 release of "Ace of Spades". This is counted as one of the best metal albums ever written, at least in my eyes, and really helped spark off the New Wave of British Heavy Metal when it was released. I was 12 at the time and to me it was a revelation. Only 11 of the 12 tracks have been re-mastered. Which essentially means cleaned up, modified to allow a clearer sound and a much tighter sound than I remember. Track 6, "(We Are) The Road Crew", is the live version recorded at Whitla Hall, Belfast, in 1981.
Strangely, this song appears again on the second album in the set – which is the actual concert live at Whitla Hall, recorded on 23rd December 1981. It includes live versions of 17 tracks, including "Ace of Spades", "The Hammer", "Shoot You in the Back" and many more. It's a great mix and sounds fantastic through speakers or headphones. It particularly sounds great in my car with the concert hall ambience set up. Yes, this too is a future car album. Sorry folks.
The third album in the set is the concert they did at Parc Expo, Orleans on 5th March 1981. Again, this is a great mix and includes pretty much the same set as the Whitla Hall concert, but its mix seems to be a little more open. Maybe I'm just hearing things.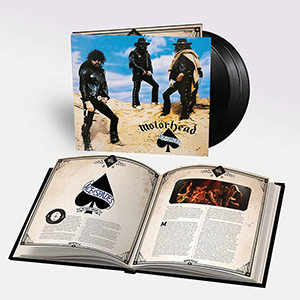 The fourth album is "The Good, The Broke & The Ugly – B-Sides, outtakes and rare tracks." This includes a selection of alternative rare versions and mixes of Motorhead songs. A total of 19 songs, and all of them are worthy of being in this collection.
Finally there is the fifth album, called "A Fist Full of Instrumentals". It includes 7 original instrumental demos of: Ace of Spades, Hump on Your Back, Shoot You in the Back, Fast and Loose, Love Me Like a Reptile and Dance.
When Lemmy passed away in 2015, many people thought that the era of Motorhead was over. However, with a box set release like this, I think that we can safely say that Motorhead's music will forever grace the airwaves. I honestly think I'm going to save up for the vinyl Deluxe version, even if it is around £139, assuming there are any left in stock. Versions of the Super Deluxe edition are selling in excess of $350 in the USA.
Various version of the box ser are available now in limited quantities, with the re-mastered release of the album on its own coming in at £15 – £30 – for the cheapest 2 CD release or the vinyl album release.
A massive metal tearing 10/10 for this, even if it is expensive.