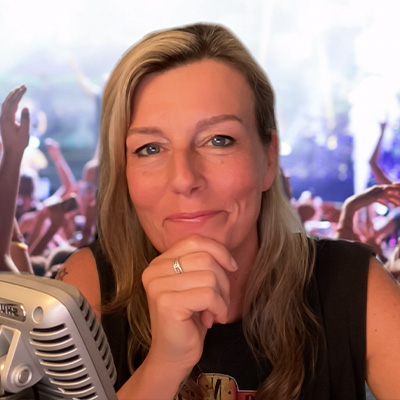 I have worked in the music industry for 34years. I started in full time radio straight out of school at the age of 16 on a Youth training Scheme.
Most of my career involved radio presenting, which I did from 1988 to 2013. Since 2013, I've been running my own radio plugging and PR company, Pluggin Baby LTD and worked with hundreds of rock and metal bands – as well as other genres.
I have also presented live music TV shows, hosted live concerts, been a voice over artist, blogger, band manager, helped run a record label and put on live music events in Birmingham, UK from 2006 to 2013.
I won three Promoter of the Year awards at the Pure Rawk Awards in 2011, 2012 and 2013 and a Live Music Business Awards "Best Local Promoter" in 2012. Massive highlights of my career!
I've presented thousands of radio shows and worked all over the UK at radio stations like: Kerrang! Radio, Q Radio, Heart, Power FM, Galaxy Radio, Hallam FM, Metro FM. (more details below)
I have worked for the two biggest commercial radio brands in the UK. Global Radio and Bauer Radio and was one of the top 20 Drive Time presenters in the UK whilst at rock and metal station, Kerrang! Radio. I was approached by BBC Radio 1 twice in the late 90's.
For 9 years, I've been running my own company Pluggin Baby LTD and working with mostly independent artists to get them radio airplay, reviews and online coverage of their new releases.
I have great relationships with my radio contacts and even wrote two books for musicians too! The first one is called Break Your Band: A Guide to Getting Radio Airplay and the most recent is called If It Was My Band. I try to help musicians move up the music industry ladder.
I recently undertook a Music Entrepreneur Master's Degree, which I passed with a distinction (a first). My dissertation was about teaching independent musicians how to get their own radio airplay and I created Youtube videos, podcasts and ran free online webinars entitled "How to Get Radio Airplay"
Radio and TV Presenting:
Chiltern Radio Network 1988 – 1992
Galaxy Radio, Bristol 1992 – 1994
Horizon Radio, Milton Keynes 1994 – 1996
Metro FM, Newcastle 1996 – 1997
Hallam FM, Sheffield 1997 to 2001
Juice FM, Brighton 2001 to 2002
Power FM, Portsmouth 2002 – 2005
Kerrang! Radio, Birmingham 2004 – 2009
Ditto TV live, Birmingham 2008
Q Radio 2009
Heart FM, Birmingham and Devon 2009 to 2013
Primordial Radio – 2020 to present
Concert promotion
Emma Scott Presents 2006 – 2013
PR and Radio Plugging
Pluggin Baby LTD 2013 to present
Books:
Break Your Band: A Guide to Getting Radio Airplay – 2009
If It Was My Band… 2014
Other info:
I've burped with Foo Fighters' Dave Grohl and Taylor Hawkins during a radio interview, I've also chatted to hundreds of bands and artists like Jared Leto, Nickelback, My Chemical Romance, Corey Taylor, Gavin Rossdale, Stereophonics, Fall out Boy, Panic at the Disco, Biffy Clyro, Skunk Anansie, Bullet for my Valentine, All American Rejects, Alkaline Trio, Funeral for a Friend, Reef, Manic Street Preachers, Trivium, Garbage, You Me at Six, Alter Bridge.
I've "roadied" for Chris Shiflett from the Foos, when his "other" band Jackson United played a gig for me in Birmingham. They were late arriving, so I just got stuck in and lent a hand carrying gear in.
I met my childhood hero, Adam Ant in 1995 and had the pleasure of dating him for a while. He's a lovely human being
I'm a recently qualified Advanced Open Water Scuba Diver and I also love weight training. I have 2 gorgeous daughters aged 18 and 22, a dog called Jet and live in St Neots in Cambridgeshire.
I love to help musicians climb the ladder and also try and help them avoid the usual pitfalls of the industry. My podcasts and Youtube videos that I did as part of my MA could be quite helpful to independent musicians.
My Linktree includes podcasts and Youtube bits and bobs: