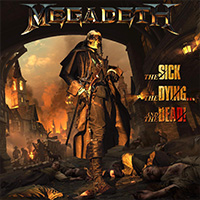 Megadeth – The Sick, The Dying and The Dead!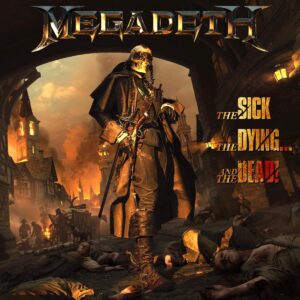 Megadeth have never been slow at giving us a pin sharp analysis of the world and its problems. In fact, their ability to satirise and comment slickly about the state of society, is what has made their lyrics so interesting to me. Now, six years after Dystopia, The Sick, The Dying…and The Dead has graced this reviewers earlobes and all is not as expected. If you had hopes that this album was going to be the next Rust in Peace, then think again, because this new album does not reach those lofty heights. Do not fear though, because all is not lost. Read on for my brief but thoughtful analysis.
The last few years have seen a plethora of issues facing the world and Dave Mustaine is not about to let you forget it. The consequence of this is that the lyrics on this album are both cutting and relevant. They may not be 100 percent what you expect from the king of lyrical thrash, but they are up there with the best of the bands previous efforts. They also prove that Megadeth are back in force.
The album kicks off with a call to "Bring out your dead" and then leaps straight into the title track with a solo haunting guitar. It's only a few seconds though before we get a great drum, guitar and bass mix. When the vocals kick in the mix is awesome. We get a perfect balance of lyrics and backing. All too often the lyrics can either overpower or vanish in the mix – not so on this album.
Not everything is good though. Using ICE-T on Night Stalkers is, in my humble opinion, a completely dumb idea. Now don't shoot the messenger, I'm not the only person to think that. It ruins what is a bloody great song in all other ways. Maybe they are doing it to bring in a wider audience, but if that's the case then use someone else, anyone else but ICE freaking T.
Not that I hate ICE-T, he's cool, it just messes with my brain. Maybe I'm a purist. Not that the song is crap, it's good, but it could be better – and it's too long. There I said it and I await the hoards of complaints.
We've already mentioned the title track, but memories of old times are brought to the fore with the following; Dogs of Chernobyl – Slick guitar work and a downbeat lyric set this up to be a good song, with the best bits appearing towards the end; the songs Sacrifice and Soldier On offer up a more commercial offering but are both interesting and reminiscent of some of their 90's offerings at the same time; Mission to Mars is very old school but is slightly corrupted, (depending upon your point of view), by constant voice over's and Junkie is almost 80's in its style and content. Of all the songs remaining on the album, I liked the cover of "This Planets on Fire" nearly as much as
their original work. Their interpretation of what was once a Sammy Hagar song is actually better that the original. Sorry Sammy.
I urge you to stick with this album. Don't be put off by some of the quirks and additions, no matter what I say. This album isn't perfect, but it is a damn good album worthy of being a sequel to Dystopia and dare I say it – slightly better.
Worthy of 7 out of 10, I truly think this album will make for a great live performance too.
Written By Louis Turfrey