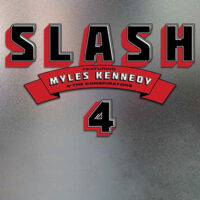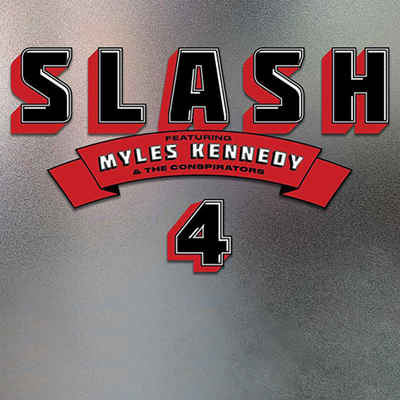 Slash, that iconic guitarist that has been a member of Gun's n' Roses, Slash's Snakepit, Road Crew, Hollywood Road and Kings of Chaos, (to name but a few), has released a new album. Called "4" it features Myles Kennedy & the Conspirators who lend their talents to the vocals and backing. Myles is of course the lead singer of Alter Bridge and in some ways this album has vibe that is close to that of his band. Similar, but different, because this album is well and truly made in the mix.
The album itself is a tour de force of rock music. It was recorded in Nashville, using a lot of live takes. Dave Cobb, famous as a country rock producer, was tasked with putting this album together and his style has added more to this album than you might think. It's a very open mix with a less sterile production design than you'll find on most other Slash albums. The whole thing sounds more like a band performing live than a few musicians coming together in a studio – and that can only be a good thing.
This album won't provide any surprises, but if you are a fan of Guns N' Roses, you'll more than likely love the energy in some of the songs. It's "basically five mates jamming together live in a room", according to Cobb. All the tracks are co-written by Slash and Myles Kennedy, so the mix of styles is eclectic.
The track list is as follows:
1. "The River Is Rising" 3:42
2. "Whatever Gets You By" 3:40
3. "C'est La Vie" 4:38
4. "The Path Less Followed" 3:40
5. "Actions Speak Louder Than Words" 4:01
6. "Spirit Love" 4:15
7. "Fill My World" 5:28
8. "April Fool" 4:33
9. "Call off the Dogs" 3:15
10. "Fall Back to Earth" 6:23
As I mentioned before there is a lot of energy on this album, but there are also a lot of slightly different mixes too which include a song called "Spirit Love" that features a sitar like sound one minute and a Nirvana like grunge sound the next. Some of these songs would not have been out of place on "Appetite for Destruction" either. Look out for "Call off the Dogs" if you don't believe me.
To some this album will just not hit the mark and so they will rate it lowly. If that's the case, then they truly aren't listening. This album has a fun energy that permeates throughout and it really seems that all who participated had a really good time making it. I know I have listened to it endlessly for the last few weeks, which is why I can honestly mark this as an 8/10. I love music like this and especially the sound of a grungy and gritty Les Paul. This album is full of it, in a good way.