Saxon – Inspirations – Album Review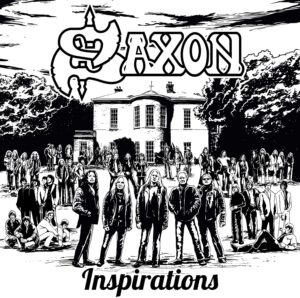 What happens when Saxon decides to do a cover of another bands song? Well, they add their own edge to it, they metalize it and they still carry it off with virtual applause from the fans of both the original and the cover.
Saxon is still comprised of members Peter "Biff" Byford (vocals), Paul Quinn & Doug Scarratt (guitars), Nibbs Carter (bass) & Nigel Glockler (drums). As a band they have been producing music for more than 40 years and were one of the key bands in the New Wave of British Heavy Metal, (NWOBHM). To say that they are a steady hand in the annals of rock would be an understatement.
So why are they producing a new album that's full of covers? Why not? These are songs that are said to have inspired the band and that means that they are a labour of love. They are a mad mix of songs from different genres.
The full track list is:
Paint it Black – originally by the Rolling Stones
Immigrant Song – originally by Led Zeppelin
Paperback Writer – originally by The Beatles
Evil Woman – originally by CROW and also covered by Black Sabbath
Stone Free – originally by Jimi Hendrix
Bomber – originally by Motörhead
Speed King – originally by Deep Purple
The Rocker – originally by Thin Lizzy
Hold The Line – originally by Toto
Problem Child – originally by AC/DC
See My Friends – originally by The Kinks
Each track has its own homage to the original band, either in vocal style or instrument style and tempo. Evil Woman sounds more like the Black Sabbath version though and Problem Child plays loose and free with the order of the verses – but some would say that  AC/DC do that too, so who am I to judge?
Now, there will be those who will say that creating a covers album requires very little effort and is an easy way to make money, but they would be wrong. Making a covers album, especially one that plays homage to the original songs, yet at the same time changes the genre, is very difficult. You don't want to alienate your own fans and you want fans of the originals to enjoy it too. This is where this album succeeds. It covers all the basses and also comes across as a brilliant metal /rock album at the same time. It's fun, has a good choice of covers and brilliant vocals and instrumental mixes.
Saxon have not lost their touch in any way so this album gets two scores – 8/10 as a Saxon Album, 10/10 as a covers album. It's also been added to the play list for my show.
Written by Louis Turfrey
Contact me via email: spotlight@crewrock.radio
Crew Rock Radio is now available to stream on Android and Alexa 24/7