Luke from Dxwnsides talks to Jessica May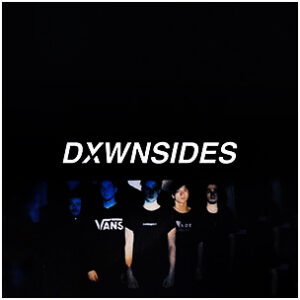 Dxwnsides, (pronounced Downsides), is a band from Birmingham and are not to be missed! With a unique sound and a mixed group of musicians they originally started out as pop punk but are now using their talents to bring back melodic hardcore. With songs such as 'Bleed' and 'Outlive' they are more than a force to be reckoned with.
Dxwnsides self titled album is a truly inspired piece of work. They have adapted punk to rock music in a genius way. Any fan of 'Fall Out Boy', 'Panic at the disco' or even 'Nirvana' could easily enjoy their creations. The music they bring to our ears, although very much 'pop punk', also incorporates the energetic sound of rock, with awe inspiring solos performed by their lead guitarist Luke Millard.
The band brings their own unique style to the stage and are not afraid to be themselves. The energy they use while performing is definitely not to be missed.
They are currently going through the process of changing their sound and as any music lover will know this can be a very nerve wracking time for musicians. A bands overall sound is what makes or breaks them and I hope it makes them. Their first album is a must listen! With tracks such as 'Distant' and 'Beg' you will not be bored.
So, let me introduce you to Luke Millard, their lead guitarist. I spent some time talking to Luke and asking him about himself and the band.
Luke began playing guitar between the ages of 13 and 14 after he was forced to join a music lesson and play piano. He was drawn to the guitar and the challenges it presented. At the age of 16 he had become increasingly more involved in playing the guitar. The challenge of learning a new skill had kept him interested and eventually he'd begun to enjoy the fun of being able to play an instrument. Luke decided to join a band to test his skills and keep himself busy. He wanted to see if he was on par with other musicians. In his own words he found it 'fun but also very interesting' and it was a new way to improve his skills.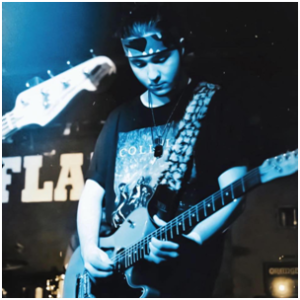 Whilst interviewing Luke I asked who his favourite musician is. Luke didn't pause and went straight for 'Synyster Gates' an american musician known best for being the lead guitarist and backing vocalist for 'Avenge Sevenfold'. His reasons for choosing Synyster are his fluidity and technicality, but also the way he pours his feelings into his music. In five years time Luke would like to be playing more regular and more massive gigs. He would love more traction with his live music and hopes the band does well for themselves. He also stated he wants to be 'more technically adept' than he already is.
When it comes to Dxwnsides, although they never really based their music off another group. Their main influences are, according to Luke, 'Casey', 'Rarity' and 'The story so far'. His favorite song that he loves playing is 'Indifference'. This is due to the melodic mix of the pop punk and melodic rock. However, he has also said that he loves playing all of their new music too, so I guess we will just have to wait and see how good it really is.
Lukes advice to any aspiring musician is; Work hard and don't be scared of different styles and genres. He said he found a lot of his inspiration from pop music and is particularly fond of 'Coldplay'. "You may not find your technique or style from the style you thought you would. And most importantly, experience you need to experience all music. Don't just stick to one style and enjoy it!"
Many thanks to Luke for spending the time answering my questions.
FOLLOW DXWNSIDES ON SOCIAL MEDIA
Instagram: @DXWNSIDES
Facebook: @DXWNSIDES
Twitter: @DXWNSIDES
All photos are taken from social media. No Copyright infringement is intended.