Fates Warning – Long Day Good Night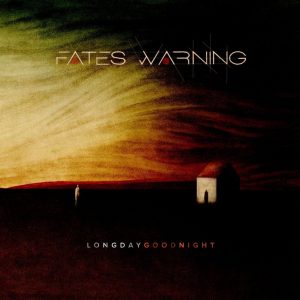 An extremely long album, at just over 72 minutes – but is it worthy of such length?
For those that don't already know, Fates Warning is classed as a progressive metal band and this is their 13th studio album. But is it unlucky 13? Let's find out.
Fate's Warning is one of the first half dozen or so founding bands of the progressive metal genre and that brings with it certain expectations. Progressive metal is in itself a cross between progressive rock and metal, so you could expect it to be tuneful, interesting metal music with a rock drive and maybe something experimental in nature too. So does this album meet with my own expectations?
The First song , "The Destination Onward", is certainly interesting. It starts out slowly, quietly and then builds into a song that is worthy of a movie soundtrack. It is also the second longest song on the album. The second song, "Shattered World", goes straight into the music. It offers up a nice set of vocals, some great bass work and a solid guitar sound. Then it stops, suddenly. Which oddly works?  The third song, and one of my favourites, is "Alone We Walk". The bass in this song is tight and kicking, with a great mix on the vocals. There is the obligatory guitar solo, but listen to the mix on the bass and drums. This is another song that finishes abruptly. Jump to "Now Comes the Rain" and the sound is almost a straight mix of 80's and 90's guitar sounds and vocals with metal undertones. Great, if like me you like that sound.
Then we come to the intermission. I call it that, because the pace of the album momentarily slows down. "The Way Home" is the fifth song of the album and despite its length of 7:42, it never gets boring.  Next "Under The Sun" starts with an acoustic guitar intro and offers up a progressive rock ballad sound, but still with some subtle metal overtones.
Then we come to "Scars", their first single release on this album. It's just over 5 minutes long and has a strong guitar introduction. However, despite the great sound, something about it sounded unfinished. I couldn't put my finger on just what it was, but something in the mix annoyed me. I don't know why, because it's a great song, and so I'm hoping someone else can have a listen to it and enlighten me. Maybe it's that sudden ending again?
After "Scars" we start moving towards "Begin Again". This song starts with a guitar and bass theme that repeats as you go through it. I like the mix on this song. Vocals stood out and the sound was heavy but with melodic breaks and quieter acoustic guitar mixed in. It ends with a heavier mix and another abrupt finish. "When Snow Falls" has some nice tones too, starting quietly and progressing into a melodic and almost hypnotic sound at times. Again there are some good percussive sounds in this song. "Liar" was okay – that's about all I can say of this. "Glass Houses" has a strong start but it wasn't anything special when compared with what had come before.
"The Longest Shadow of the Day" starts with a cool jazz guitar sound over a quieter guitar and snare mix. It's an insane sound, in a good way. Then it switches into something much heavier. You are almost half way into the song before you realise they have only just started the vocals. Why does this remind me of Rush? I love this song as it truly has something progressive in its sound. The best song on the album in my humble opinion, it captures the genre perfectly.
"The Last Song" is also the last song on the album. It is the shortest song on the album at just over three and a half minutes in length. It combines acoustic guitar and vocals into something that is much quieter and entirely different to what has come before. It has a slightly melancholic sound that I liked. At first I thought it didn't fit what had come before, but after listening to the album a few times I see the point.
In conclusion, this is an album of varying pace and varying song length. Some of the songs found on this album are what I call "Standard" metal fare, but most of them have an interesting sound and mix that offers up a lot to those of us who enjoy repeat listening. I've heard say that some of the songs on the album are boring. I wouldn't say that. Redundant would be my view. At least two of the songs could have been used on another album. That being said, I enjoyed the album immensely and would recommend progressive metal fans add it to their collection.
Long Day, Good Night was released on 6th November and in my view is an 8/10.